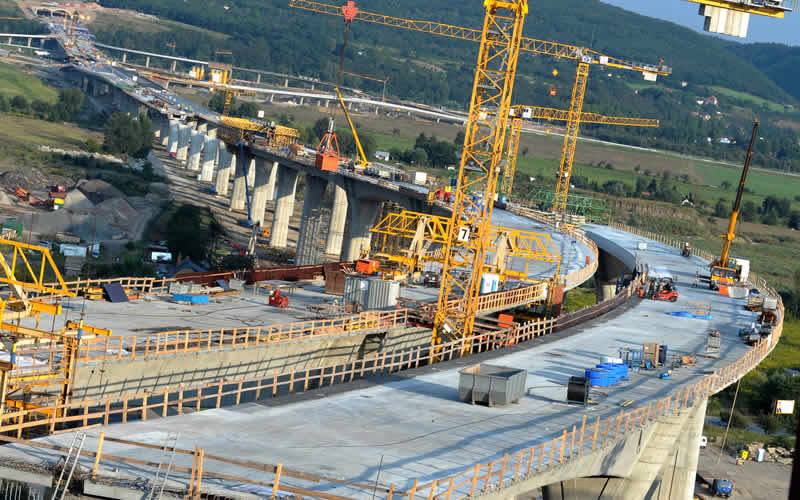 Industrial paradigm is the human-centered, mechanistic and reductionist worldview that dominates science, education and especially economic thought since industrial revolution.
For the industrial paradigm, we humans are not a part of the nature; we are outside the realm of nature.
We stand above all other animals and plants; we are created to dominate and reshape the nature which is a place of wild chaos, barbarism and misery without humans. The world is created for us humans. This means, nature can easily be sacrificed for the comfort, convenience and progress of humans.
For the industrial paradigm, nature is not an active producer; nature is only a passive raw material resource, a passive infrastructure of life, and a passive dumping ground with a certain capacity for endurance and recycling. In other words, nature is not a living ecosystem; it is only a dead, non-living resource without inherent consciousness or intelligence.
There is only one kind of producer: Humans. Everything else is only resource.
Nature is for the industrial paradigm a place of wild and disordered entity that must be tamed and ordered according to the tastes and preferences of civilized humans.
As a consequence of this narrow worldview, industrial paradigm focuses only on human-made things like buildings, roads, cars, computers, smart phones and so on, when it talks about production or technology.
For the industrial paradigm, a giant marine ecosystem that produces (among many other things) millions of tons of fish is not a producer. The only producers are the fishermen who catch, process and sell these fish.
Historically, industrial paradigm -like neoclassical economics- is a co-production of human-centered religious worldview, industrial revolution, imperialism and economic thought in the 18., 19. and 20. centuries. With its focus on human-made things and money, it serves perfectly well to the narrow and short-sighted interests of corporations.
A person, whose mind is shaped by the industrial paradigm, typically seeks solutions to every kind of problems with human-made technologies; she does not take into account the solutions of nature (ecosystems) or traditions that are based on a very rich biological and cultural diversity. In most cases, she cultivates a blind belief in technological progress (i.e. technological progress will solve all the problems of humanity including the ecological ones).
By undervaluing nature, industrial paradigm fosters ecological ignorance, and an ideological blindness to the non-monetary production of nature and society.
With its blinders, industrial paradigm shapes -in facts distorts- the meaning of many economic concepts like production, technology, innovation, technological progress, modernization, efficiency, economic growth, job creation and free market. I will mention these distortions in my future blog articles.
Industrial versus Ecological Paradigm
Industrial paradigm may be best explained by the dichotomy of industrial versus ecological paradigm.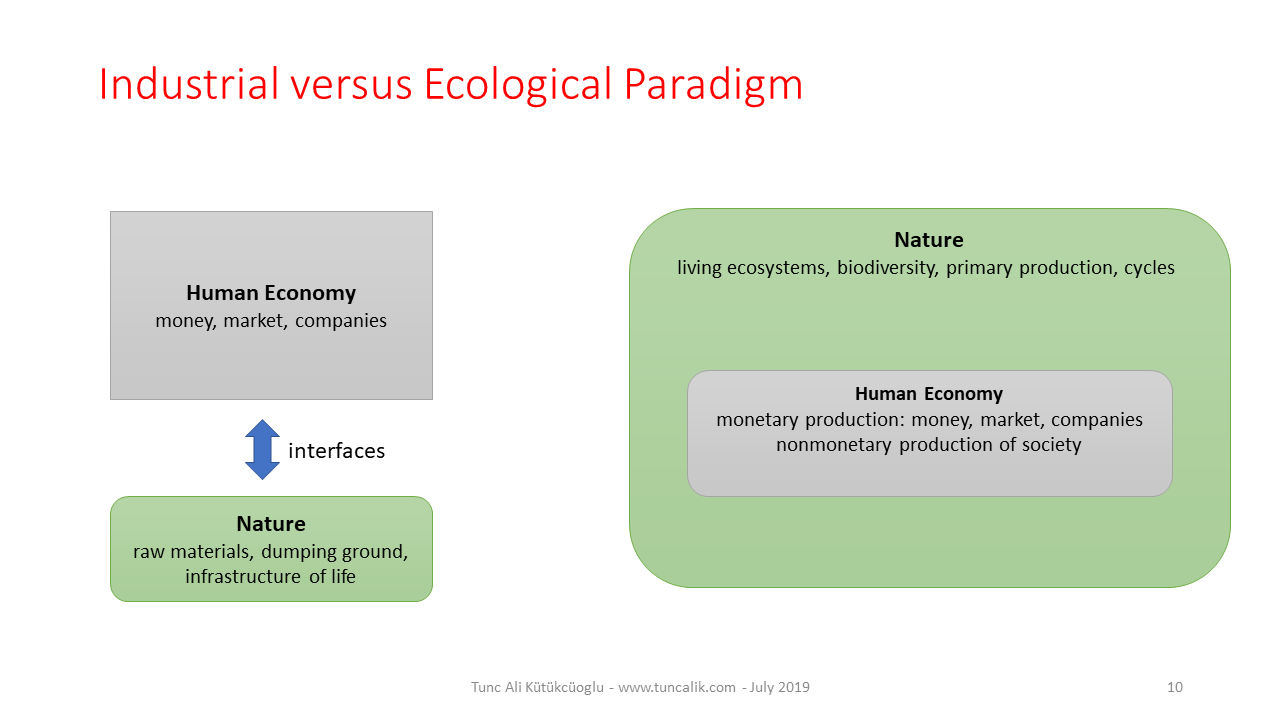 For the industrial paradigm, human economy does not reside within the nature; it stands above the nature as a dominating power, connected to nature via simple interfaces (like the interfaces of a machine) for natural resources.
For example, DDT based pesticides were successfully promoted with marketing slogans like "symbol of humanity's progress and triumph in its war against the nature" by corporations like Monsanto and DuPont, reflecting the prevalence of industrial paradigm as the dominant worldview of the era (see Silent Spring by Rachel Carson for more information about the tragic story of DDT).
Thanks to the high degree of undervaluation (of nature), reductionism and abstraction, the complex, multi-functional and multi-dimensional relationships between humans and nature can be reduced to simple mechanistic interfaces. For example, a forest as a complex living ecosystem which affects human life in many ways (climate, water, air, soil, recycling, recreation, food source, health etc.) can be reduced to a mere timber resource for human industry.
Industrial paradigm models even agriculture -based on living plants, animals and soil- like a mechanic factory which must be fed by fertilizers, water, labor, energy, pesticides etc. (input factors) to produce harvest (output factors); the inter-connections with the environment, and the natural cycles in the living soil are almost completely ignored.
As already mentioned above, nature is for the industrial paradigm a passive (non-living) resource of raw materials, a passive dumping ground and a passive infrastructure of life. Nature is like a non-living, static and mindless residential building that must be kept free of too much dirt (pollution) for the continuation of human health and life.
The narrow mechanistic and reductionist worldview of the industrial paradigm is a delusion that undervalues the essential role of nature in human's life. Ecological paradigm is the more complete, holistic and realistic worldview which sees humans and human economy as a part of nature, within the nature.
For the ecological paradigm nature is a living ecosystem (organism) and the primary producer that produces most essential things like mild climate, food, water, recreation, stimulation, medicinal plants, materials for various tools etc. for human life. Without the primary production of nature humans (or any other animals) cannot live at all; everything that humans produce (as secondary production) are based on the primary production of nature, including minerals like oil.
Industrial paradigm is generally obsessed with only one kind of production: Monetary human production; things that humans (or firms) produce to sell on the market for money. The fallacy of measuring total economic production with money flow alone (GDP: Gross Domestic Product) reflects perfectly influence of the narrow worldview of industrial paradigm.
Ecological paradigm can perceive all kinds of productions: Production of nature, non-monetary production of societies, monetary production of societies…
So, ecological paradigm is perfectly aware of the fact that a society, which is obsessed with monetary production can be destroying the foundations of its non-monetary production (and life) in the single-minded endeavor of increasing monetary production (i.e. GDP growth).
Written by: Tunç Ali Kütükçüoğlu, August 2019